NotaryLive Named "Best For Frequent Users" In Forbes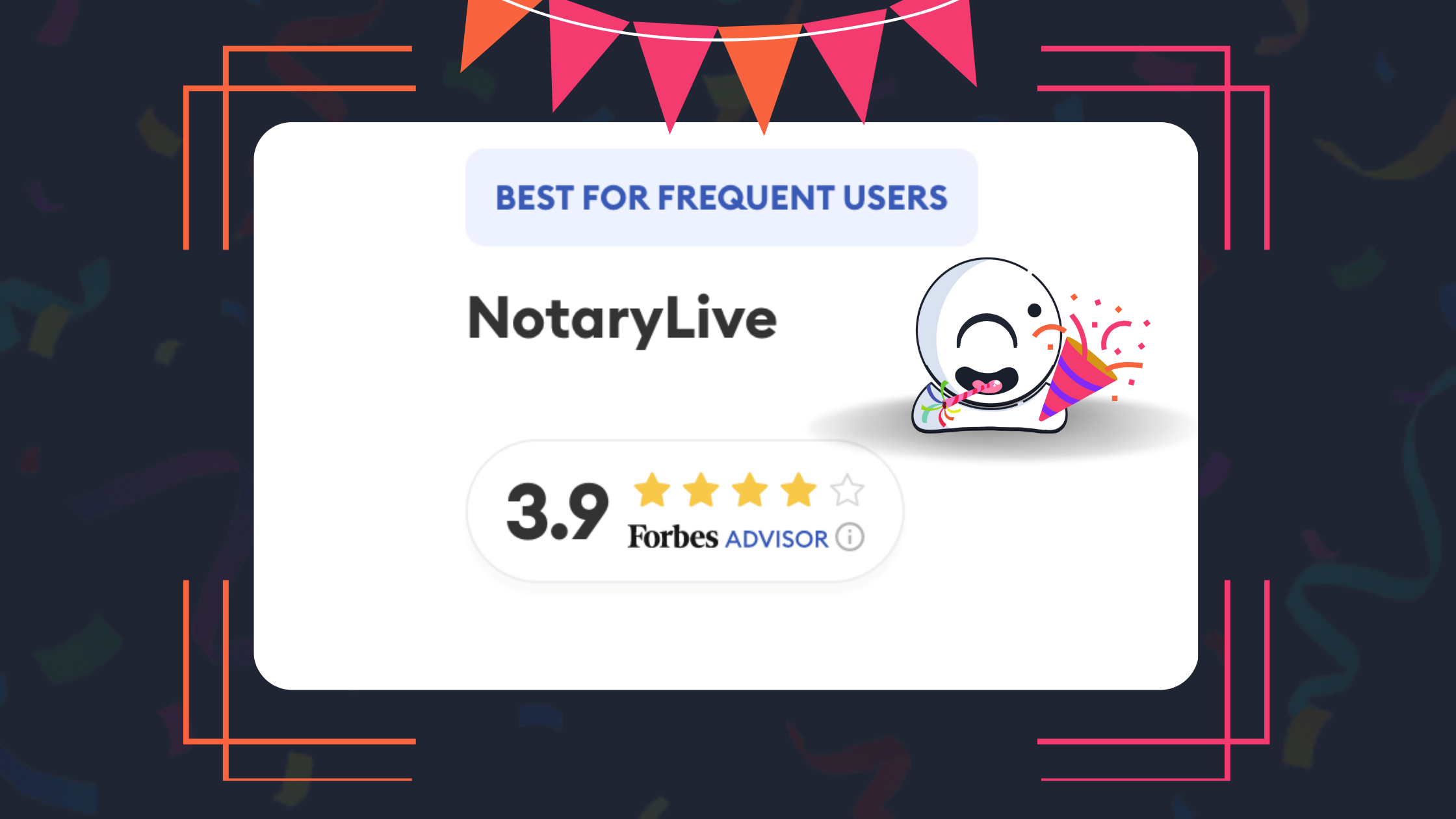 By Tiffany V.
Published on 02/02/2023
Forbes Advisor recognizes NotaryLive as one of the top online notary services of 2023. Out of the top companies evaluated, NotaryLive was named the "Best for Frequent Users" with a 3.9 rating in their article "Best Online Notary Services in 2023".
This recognition is a testament to our commitment to providing high-quality, reliable, and accessible notary services to individuals and businesses alike.
Why Did Forbes Choose NotaryLive?
NotaryLive offers its customers a convenient and secure way to get their documents notarized. Its user-friendly platform, 24/7 availability, and competitive volume pricing make it a top choice for frequent users. With NotaryLive, customers can be assured that their transactions are in good hands.
Reasons Forbes Chose Us:
Business Premier - The subscription fee can be waived if you do enough notarizations each month.
Highest Tier Plan - Unlimited seals, Onboarding Support, Account Manager, White Labeling, API, and unlimited users.
Offers A Free Customer Account - Users can pay for notarization on a pay-as-you-go basis with a free account. $25 per session.
Trust and Reliability
NotaryLive's commitment to quality and ease is reflected in its strong ratings and positive reviews. NotaryLive has a Trustpilot rating of 4.8 out of 5, indicating it is a reliable solution for online notarizations. This combined with its recognition by Forbes with a 3.9, makes NotaryLive a top choice. It is a great choice for individuals and businesses seeking online notary services.
Why Online Notarization is Essential
Online notarization is a convenient and secure way to have documents legally verified without leaving your home. With NotaryLive, the process takes only a few minutes and can be done on any device with a webcam. Remote notarization eliminates the need for in-person appointments and makes it possible to notarize documents at any time from anywhere.
Notaries play a critical role in verifying the validity of documents and transactions by serving as government-approved witnesses. In addition to being easy and convenient, online notarization is also more secure than in-person notarization because all sessions are recorded.
A Thank You to Forbes
We are grateful to Forbes for including NotaryLive in its list of top online notarization solutions. This recognition is a proud moment for our team. It reinforces our commitment to providing our customers with the best possible experience. Thank you, Forbes, for your support!
How To Get Your Documents Notarized Online With NotaryLive
To begin notarizing a document online with NotaryLive, all you need is:
the document you are looking to get notarized
a device connected to the internet with camera/microphone capabilities
and either a valid driver's license or passport.
Once your identity is confirmed using industry-standard ID verification technology, you will be connected with a notary, live via webcam and receive an electronic signature.
NotaryLive makes it easy to get a document notarized online in just a few minutes. This means you don't have to take time off work, travel, or spend your day at a notary's office.
You can also save the hassle of setting up notarial sessions and paying extra for a mobile notarization. These days, we could all use a little extra time and money, so notarize your documents online today with NotaryLive!
In simpler terms, all you have to do to notarize a document through NotaryLive is…

In order to begin, please click the button below.
After the previously mentioned steps are completed, you can access the signed document(s) through an email confirmation. You can also access your document through our customer dashboard to download them with ease!
For any more questions about Remote Online Notarization (RON) and its benefits, please look at our frequently asked questions.
We have a Trustpilot rating of 4.8 and 100,000 users & growing. Try NotaryLive out for yourself to see how our clients have leveled up their notarization game!
Is Your Business Looking to Upgrade its Notarization Process?
On top of the normal benefits of our platform, NotaryLive for Business allows business account holders to make frequent use as easy as possible with options such as:
Creating sessions for their Clients
Adding Multiple Users
Viewing Clients' Notarized Documents
Single-Use or Monthly Billing (Great for high volume!)
Volume Pricing Options
Optional API and White Label Integration
Plus all standard account features
Interested in learning more about Notarizing Documents Online?
Here are some other helpful articles:
Updated Date: 03/31/2023
---