NotaryLive Announces Its Newest Feature: Phone In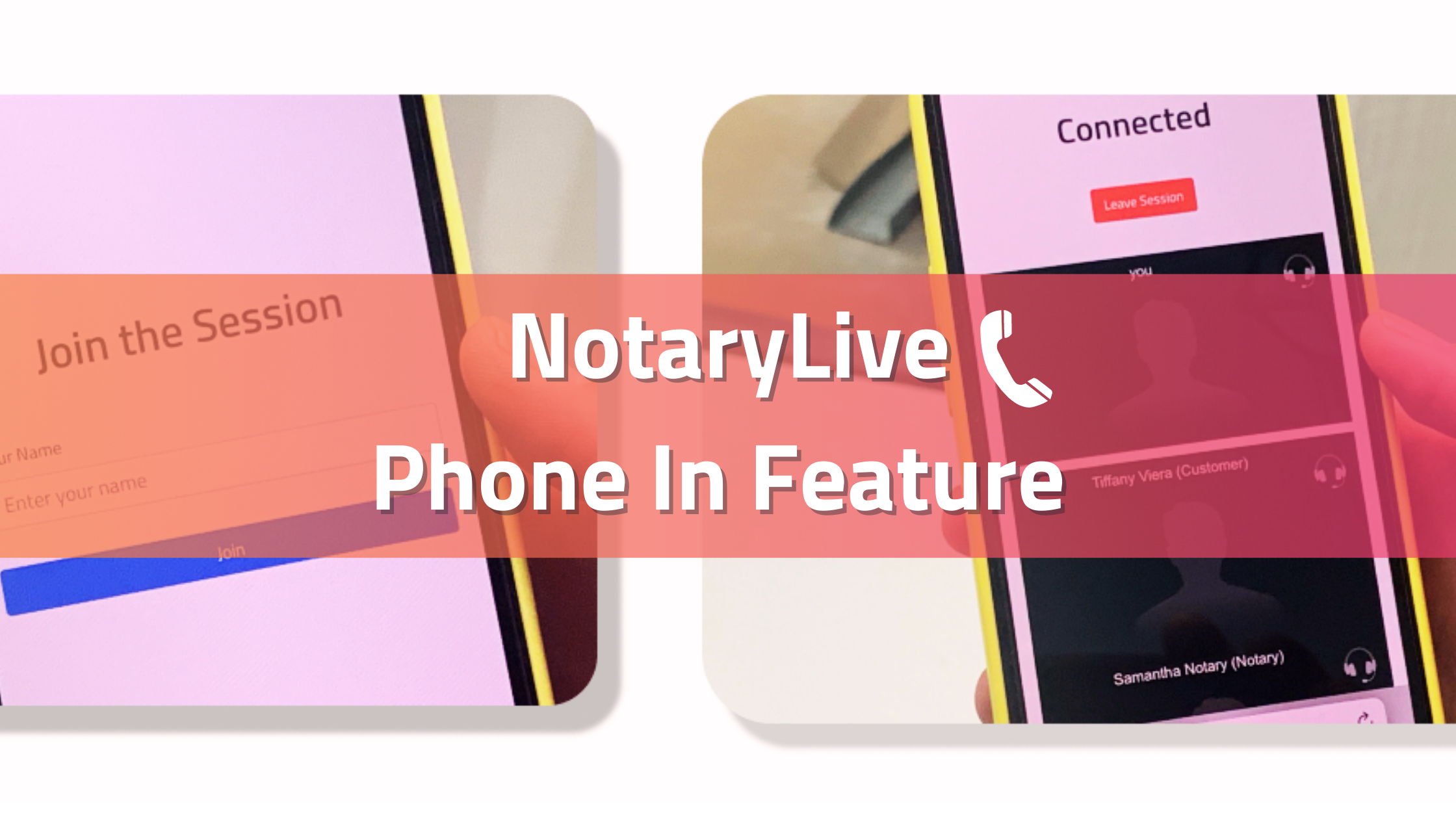 By Tiffany V.
Published on 05/11/2023
We know -- Change is hard! New habits can be daunting. We enjoy routine and we have taken these facts into account with everything we have built.
Our platform is the traditional notary service that you know, just moved online for faster, more convenient, secure, and more error-free results.
And now, our Phone In feature will allow you to feel even more confident during your session since your trusted contact is only a call away.
What Is Phone In?
NotaryLive is proud to announce a new feature called Phone In that allows a call to an advisor for help during your online session.
Since we cannot give a signer legal advice, this new feature will make it easier for you to get the needed answers quickly and securely depending on the document.
Get the help needed from your trusted contact in real time instead of waiting for a response or waiting on search results.
How It Works:
With this option, put in the phone number of the person you want to call (cannot be a landline). This action will send a link to your reliable contact's mobile phone number.

After the link is sent, your contact will click on the unique link to join the notarial session. That is when they'll be able to assist you as well as the notary to provide all the guidance/insight you need.

Signers now have the option to call in their contact in real time to the session to either:
Double-check the proper places to sign the document.
Ask any questions related to the document being notarized.
Or just to make sure. :)
It's as easy as . . .

How Does Phone In Streamline Workflows?
NotaryLive's new Phone In feature has been built to further prevent the occurrence of fraudulent activity or errors/delays in your notarized document(s).
On average, 30% of traditional, in-person, notarized documents contain mistakes. Why use your valuable time to go through all that just to get a possible error? You'd have to do those steps all over again.
The Phone In feature provides great support just like our Full-Time Customer Support Team does. This is 1 extra reason we are the straightforward, online notarization platform for you!
Use Case Examples:
When you have a final question about a financial document during notarization, you can reach out to your financial advisor.
While notarizing a will, you may have questions relating to the document and you can reach out to your legal advisor to make sure you're executing the document correctly.
Feel free to call a relative or friend to double-check the power of attorney information.
How NotaryLive Works
NotaryLive is an online notary service that allows you to remotely notarize documents whenever and from wherever you need to.
With NotaryLive, you can easily upload your documents and connect with a certified online notary via your audio visual technology hardware.
The notary will verify your identity. They will witness your signature. And all of this can be done while you remain in the comfort of your home or office. This beneficial process will save you time, money, and convenience.
In simpler terms, all you have to do to notarize a document through NotaryLive is. . .
To get started, you can click the button below,
Interested in Learning More About Notarizing Documents Online? Here are Some Other Helpful Articles:
Updated Date: 05/29/2023
---