What You Need To Get a Liquor License In California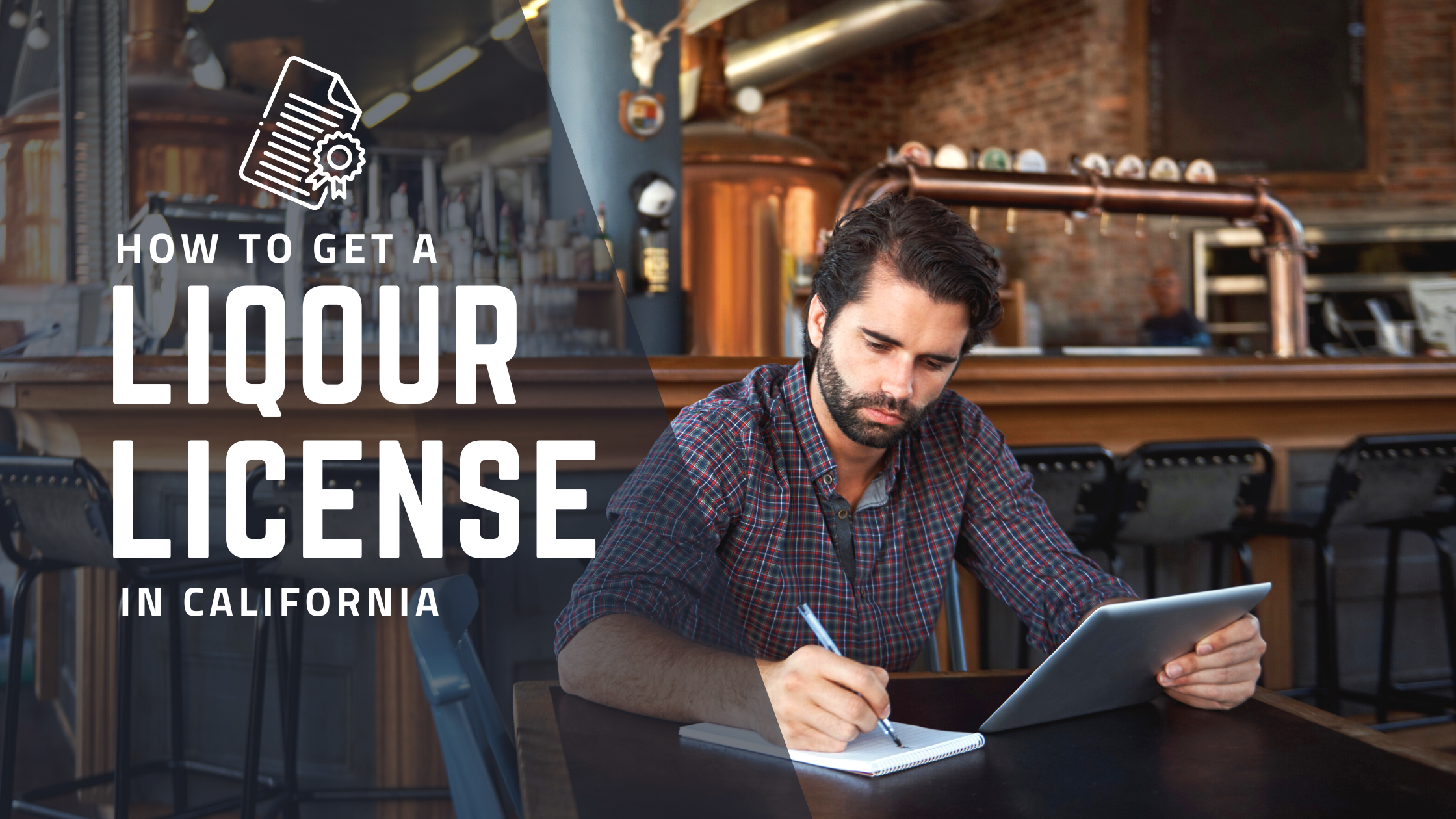 By NotaryLive Staff
Published on 12/16/2022
Are you considering establishing a company that sells alcohol to consumers? Becoming a liquor commissioner in a restaurant, bar, or liquor store opens a great opportunity for business owners.
But wait! You must obtain an ABC liquor license (Alcoholic Beverage Control) before you sell alcohol in your establishment. Here's how:
Liquor License Requirements
Knowing the prerequisites for applying for an alcohol-serving license is important before you proceed with the process in California. These requirements are as follows:
You have to be at least 21 years old.
Must possess the necessary insurance (restaurant and bar insurance)
Must have a proper location and zoning approval

To thoroughly investigate the location where you would be selling your alcohol, you must contact county officials.
You can require a conditional use permit if starting a new business in a certain area.

A Sales Tax Permit is required

You must contact the State Board Of Equalization to request a seller's permit for sales tax.

An Escrow Agreement is required

If buying a business or transferring a business, you must have the escrow established for the full purchase amount. This demonstrates that the payment will only be made if ABC (Alcoholic Beverage Control) has given the licensed trader its approval.
You must provide your County Recorder notice of the transfer.
Liquor License Cost Of Application
ABC (Alcoholic Beverage Control) keeps a thorough schedule of application fees for various licensing kinds. (look this link up and link it) The various rates for various liquor license applications are listed below.
General ABC Licenses: $945 for Non-priority to $16,560 for priority ABC licenses
Non-General ABC Licenses: $105—$945
Transfer Fees for person-to-person transfers: $105—$1305
Premise to Premise transfer fees: $105—$6275
Submitting Your Application For A Liquor License In California
There are five stages in the liquor permit application process in CA.
Initial Filing
Locate the California Department of Alcoholic Beverage Control office that is closest to you. The ABC staff will assist you in deciding what kind of license you need to have based on a set of criteria.
They will then let you know what paperwork and costs you need to continue with the procedure.
Notifications
A Public Notice of Application must be posted at the location for 30 days while an inquiry or inspection is taking place. This includes publishing a notice in the newspaper, mailing a notice to all persons living within 500 ft of the premises, and obtaining proof from the local planning department that shows that the zoning permits are an Alcoholic Beverage Control License.
Investigations
When it comes to getting a license, there may be some challenges. Someone may object to the liquor license once the notification is published. Some factors of a protest are:

The applicant is not qualified
The premises are not suitable (too close to a school, church, hospital, etc.).
Final Review
Alcoholic Beverage Control starts the final review process for approval if the applicant demonstrates that all requirements have been met and have been provided to them. The following things may prevent the issuance of a liquor license:

Documents with missing or inaccurate information
Incorrect or absent fees
Placement of liens against an escrow
The location is still being built and is not yet operational.
License Issue
The applicant will receive their liquor license after the final evaluation is finished. They are then given the go-ahead to sell alcoholic beverages at their establishment.
Notarizing Documents To Obtain Liquor License In California
Keep in mind that if the Alcohol Beverage Control Agent is not present, certain of the paperwork needed to apply for a California ABC permit must be notarized. Given how difficult it is to secure a liquor permit in the first place, using NotaryLive makes the process considerably simpler for you. Depending on your circumstances, you might need to sign the following documents in order to get a liquor license.
Individual Personal Affidavit ABC-208-A
Individual Financial Affidavit ABC-208-B
Application Signature Sheet ("Sign-On") ABE-211-SIG
License Transfer Request ("Sign-Off" ABC-211-A
Application Questionnaire ABC-217
Notarize Your Documents With NotaryLive
When you can notarize a document online with NotaryLive in a matter of minutes, there's no need to make the effort to travel, take time off work, or waste your day going to the nearest local notary. You can also save the hassle of setting up an appointment and paying extra for a mobile notarization. These days, we could all use a little extra time and money, so notarize your documents online today with NotaryLive!
To get started, you can click the button below.
Is Your Business Looking to Upgrade its Notarization Process?
On top of the normal benefits of our platform, NotaryLive for Business allows business account holders to make frequent use as easy as possible with options such as:
Creating sessions for their Clients
Adding Multiple Users
Viewing Clients' Notarized Documents
Single-Use or Monthly Billing (Great for high volume!)
Volume Pricing Options
Optional API and White Label Integration
Plus all standard account features
Does NotaryLive sound like the right fit for you and your business?
If you're looking to get a document notarized, you can click here to Notarize Now!
To learn more about our NotaryLive business account options, click here!
For pricing info, click here.
If you have any questions, contact our sales team, and we will be happy to help!
Interested in learning more about Notarizing Documents Online?
Here are some other helpful articles:
Updated Date: 03/31/2023
---