Ron To The Rescue: Volume 2 Close The Deal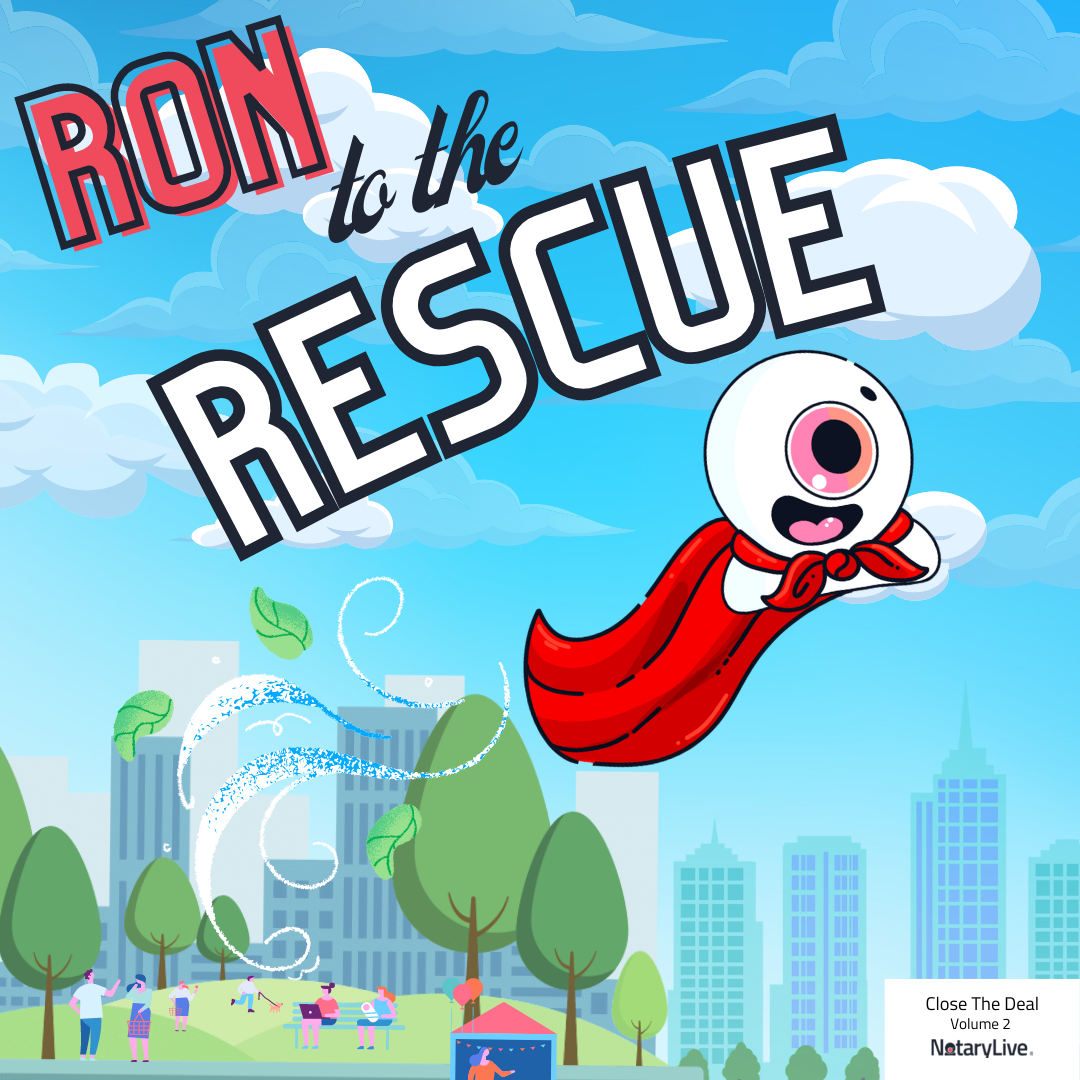 By Tiffany V.
Published on 10/10/2022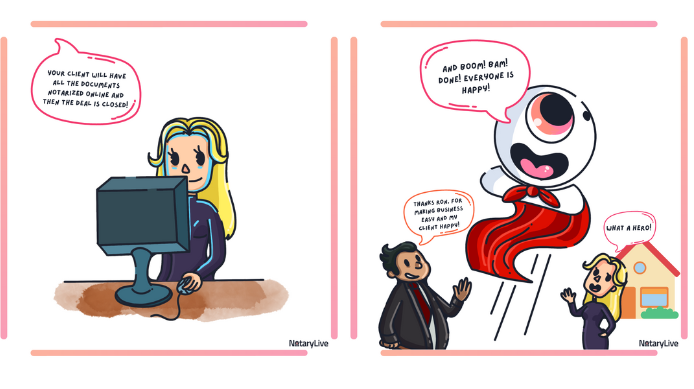 Running a business while working hard to please your clients isn't easy. Especially when your client has to get documents notarized and can't find the time to schedule an appointment with a local notary.
Ron: But, with NotaryLive it 100% is as easy as can be!
Whoa, Ron! Didn't see you there.
Ron: When Ron is here, a Notary is near! Any business owner/employee, etc. can easily guide their clients to happiness without any struggles of having them travel to a local notary to close a deal.
Is it really that easy?
Ron: Yes! I should know. Especially when I've helped a business owner, myself.
How'd you do that Ron?
Ron: Well, I helped a man who was trying to help his client sign a deed for a house. However, his client wasn't able to take off work to go to a local notary…
That's when I told him about NotaryLive!
Oh, that's great, Ron!
Ron: Yep! Like always, it was made super easy for both of them. He used the NotaryLive platform to send his client a request for remote notarization! He was very worried about his client losing the deal since his business always strives to make clients happy. NotaryLive made everything easy-peasy for him!
That's incredible! What are some tips and tricks that you can inform other businesses that may be reading this? What if they're having the same problem as these two individuals you've saved before?
Ron: Of course! I'm right on it. Hey reader! Are you a business looking for an easy, remote online notarization process? NotaryLive makes RON feel like a breeze.
How to Send your Client a Request to get a Document Notarized:
Ron: NotaryLive offers tons of benefits for Business account holders!
Customization for Businesses
NotaryLive for Business allows business account holders to make frequent use as easy as possible with options such as:
Creating Sessions for their Clients (this is YOU sending a request for one of your clients to get their documents notarized)
Adding Multiple Users
Viewing Clients' Notarized Documents
Single-Use or Monthly Billing (Great for high volume!)
Volume Pricing Options
Optional API and White Label Integration
Plus all standard account features
Ron: If you find yourself interested in these benefits, create an account now! You won't regret it. Your work will feel easier than ever before and your clients will be happy!
If you're in need of getting a document notarized, click here to Notarize Now!
Or, if you're eager to learn more about business account options, click here!
Ron: Does NotaryLive sound like a good fit for your business? What do you say?
Interested in learning more about remote online notarization?
Here are some relevant articles:
Updated Date: 03/31/2023
---